ABOUT
Tsukuba Startup Park is a municipal incubation facility which supports each stage of starting business.
We especially focus on supporting startups concerned with new technology.
Different people involved with startups such as entrepreneurs, research institutes and investors gather here and interact with each other.
FLOOR MAP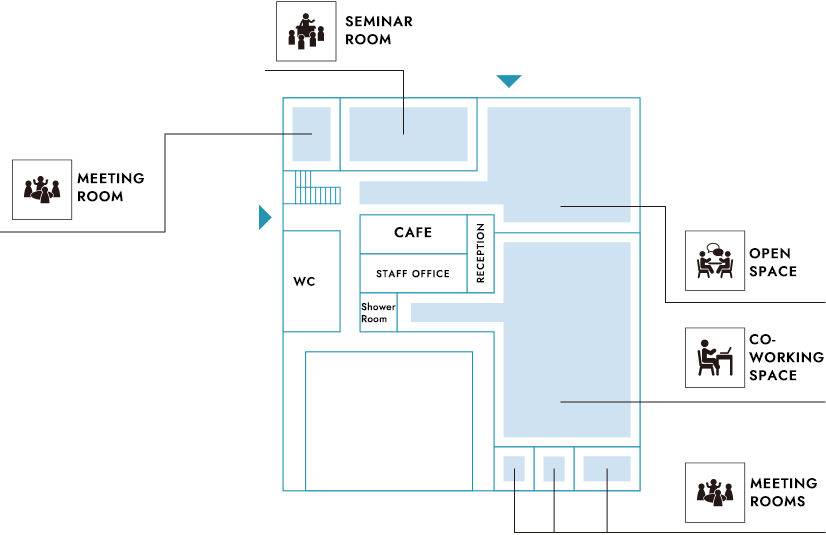 OPEN SPACE
Anybody can use the Open Space freely. This space is for people to interact and communicate with each other.
SEMINAR ROOM
Seminar events to build up knowledge and network are held in the Seminar Room.
CO-WORKING SPACE
You can use the Co-Working Space as a temporal workplace (drop-in user) or as an office (commuter pass user). Various supports are available such as consultations by a permanent manager and regular consultations by some experts.
MEETING ROOM
the users of Co-Working Space can use the meeting rooms for free.
CAFE
Coffee Factory Startup Café. It is a café established in 1989 in Tsukuba. It has produced experts of coffee and won the World Brewers Cup and the Japan Cup Tasters Championship. You can enjoy baked goods, latte art and food as well as roast coffee.
REGULAR CONSULTATION
Free consultations supported by experienced entrepreneurs and experts of various areas such as management, finance, employment and intellectual property are held regularly for entrepreneurs in embryo and newly established startups.
Consultation on starting business
Consultation on starting business is held once a week. You can consult experienced entrepreneurs and investors about your problems on starting business.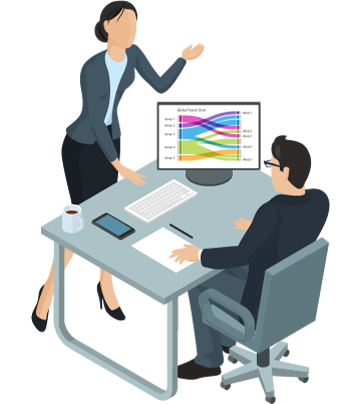 (Only available in Japanese)
COMING SOON
EVENTS
Seminar, workshop, gathering and matching event on starting business are held at all times.
※There are incubation offices on the 2nd floor. Please refer to Tsukuba City's website (Only available in Japanese) or contact us for more information.
Opening Hours and Charges
Commuter Pass User

Drop-In User

Co-Working Space

18,000 yen / month
(24 hours / 365 days)

300 yen / hour
1,500 yen / day
(Weekdays 11:00 - 21:00)

Exclusive Wi-Fi

✔

✔

Shower Room

✔

―

Exclusive Locker

✔

―

Corporation Registration

✔

―

Meeting Room (Free)

✔

✔
Commuter Pass User

Drop-In User

ごCo-Working Space

18,000 yen / month
(24 hours / 365 days)

300 yen / hour
1,500 yen / day
(Weekdays 11:00 - 21:00)

Exclusive Wi-Fi

✔

✔

Shower Room

✔

―

Exclusive Locker

✔

―

Corporation Registration

✔

―

Meeting Room (Free)

✔

✔
※There are reduction and exemption of charge for some specific people such as researchers and students in Tsukuba.
※Closed days: Dec 29 to Jan 3. However, it is opened for the commuter pass users 365 days.
Seminar Room (reservation required) 500 yen / hour
(Weekdays 11:00 - 21:00, Saturdays, Sundays and holidays 11:00 – 19:00)
ACCESS
Tsukuba Startup Park ( Tsukuba Industry Promotion Center)
Address: 2-5-1 Azuma, Tsukuba, Ibaraki

・Train
5-minutes walk from TX Tsukuba station
・Bus
Tokyo station ↔ TX Tsukuba station(approx.60min)
Narita International Airport ↔ TX Tsukuba station(approx.100min)
・Free parking lot
2-3-4 Azuma.Tsukuba.Ibaraki
CONTACT
Tsukuba Startup Park 1F Staff Office
TEL: 029-856-0610 (Weekdays 11:00 - 21:00)
E-mail: info@tsukuba-stapa.jp